Tube Puppets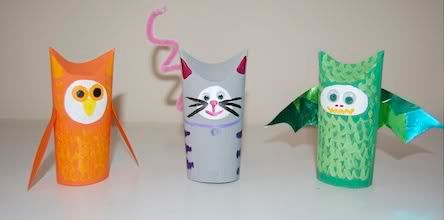 Tube Puppets by Betsey McLawhorn
Level: 2
Time Frame: 30 + minutes
Goals:
-

To communicate to students the idea of creating a character.

Teachers will guide students in creating their own characters for imaginary play by asking questions about what traits the characters have.

Discuss how students can show physical traits easily, such as 'green eyes' or 'red nose' but will need to think about how they can show character/personality traits, such as 'wild' or 'happy.'
-

To develop fine motor skills through cutting small objects, bending wires, and gluing small details.
Materials:
White Cardstock

Paper Cutter

Masking Tape

Craft/All-Purpose Acrylics

Paintbrushes

Embellishments: Scrap Paper, Wiggly Eyes, Sequins, Pipe Cleaners, etc.

Glue
Teacher Preparation:
Cut sheets of cardstock in to 5 ½ x 4 ¼ inches.

One 8 ½ x 11 inch sheet of cardstock will make four tubes.
Tape in to tubes.

By using masking tape, you can tape on the inside and outside of the tube to help maintain the shape, but also make it easier to paint on.
Steps:
Fold the top two edges of the tube in so two points are created (almost like ears).

Add a dab of craft glue so it stays in place.
Get your imagination working!

Look at the form you have just created.

What does it look like?

A bat, owl, monster, etc?
Decide on the colors you will use for your tube puppet.

Paint the entire tube.

Dry.

Paint on faces, clothes, stripes, etc.

While your paint is drying, decide how you will embellish your puppet.

Will it get a pipe cleaner tail?

A paper hat?

Wiggly Eyes?

Antennae?

Once the paint has dried, add the embellishments.

Create a cast of characters and have a puppet show!
Arts For Life © 2010
Tags: Puppets